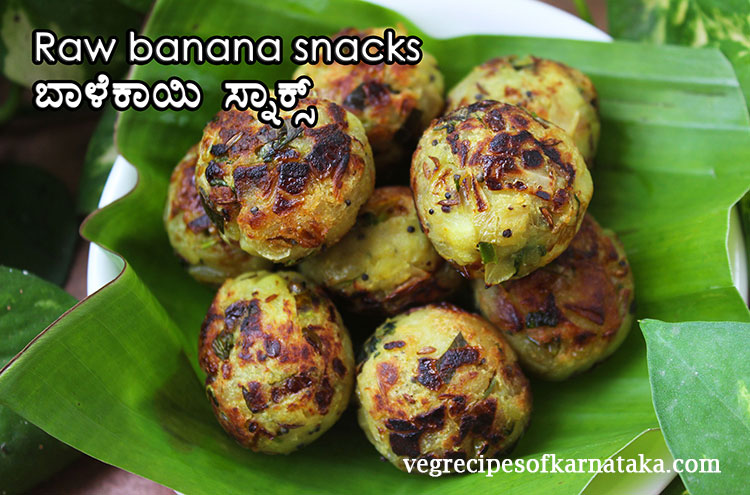 Balekai snacks or raw banana snacks recipe explained with step by step pictures and a video. This balekai snacks prepared using raw banana, onion and few other spices. Balekai snacks or raw banana snacks is very healthy and tasty. You can serve this balekai balls as a tea time snacks or as a side dish.
This is a healthy alternate to deep fried snacks. I love paddu pan or appe pan for health benefits and the simplicity of cooking. I have posted few recipes on this website, which makes use of this pan. They are southekai paddu, normal paddu, sabsige soppu paddu or dill leaves appe and sweet banana paddu recipes.
I learnt this recipe from my Mother. She deep fries this, but I gave a healthy twist by preparing this in the paddu pan or appe pan. I generally try to avoid deep frying stuffs..and sabakki paddu, veg lollipop in paddu pan and curd vada in paddu pan are the results.
To prepare paddu or guliyappa or paniyaram or appe, a different type of pan with pits is used. I have used very minimum oil in this recipe..but if you wish you can add more oil to make it more tasty. Or you can even deep fry these balls for better result.
I have marked curd as an optional ingredient in this recipe..however if you want follow deep frying method, then don't miss the curd. Curd will do the binding job.
You can find many banana recipes on this website like banana halwa, banana buns, banana milkshake, banana dosa and banana chips recipes.
If you are looking for more Karnataka style snacks recipes then do visit our snacks recipes section.
I have made a video on this recipe with Kannada narration, which I have embedded it below. Kindly have a look.
Balekai snacks or raw banana balls
Preparation time: 5 min
Cooking time: 40 min
Serves: 12 no

Ingredients: (measuring cup used = 240ml)
2 raw banana
1 big onion finely chopped
1/2 tsp mustard seeds
1/2 tsp cumin seeds
A big pinch of turmeric powder
A big pinch of asafoetida
1 tsp finely chopped ginger
1 - 2 green chili finely chopped
7 - 8 curry leaves finely chopped
1 tbsp finely chopped coriander leaves
1 tbsp curd
Oil for cooking
Salt as per your taste
Instructions for making balekai snacks:
To prepare balekai snacks, take 2 raw bananas, chop the ends, trasnfer it into a pressure cooker and add in required water.
Close the lid and cook until soft by making 3 - 4 whistles.
Once the cookd bananas are cool, peel them. You can easily peel them once they are cooked.
Next mash the peeled bananas and keep it aside.
Next heat a frying pan. Add in a tsp of oil, mustard seeds and cumin seeds.
When the mustard seeds starts spluttering, add in finely chopped ginger and green chilies. Give a quick mix.
Add in turmeric powder and asafoetida. Give a quick mix.
Next add in finely chopped onion and fry until onions turn soft.
Finally add in chopped curry leaves and coriander leaves. Give a quick mix.
At the end add in mashed banana. Switch off the stove and give a quick mix.
Add in salt and a tbsp of curd. Please note, adding curd is optional. Give a quick mix.
Wait until cool and make small lemon sized balls.
Meanwhile heat the paddu pan and put 1/4 tsp of oil in all the pits.

Put the banana balls in the pits.
Drizzle oil on top. Keep flipping often for even cooking.
Wait until the banana balls are cooked and brown from all the sides. Serve it hot with tea or as a sidedish with the meals.
Dear reader, We have a Kannada version of this recipe. Click here to read this recipe in Kannada.

You might like this: