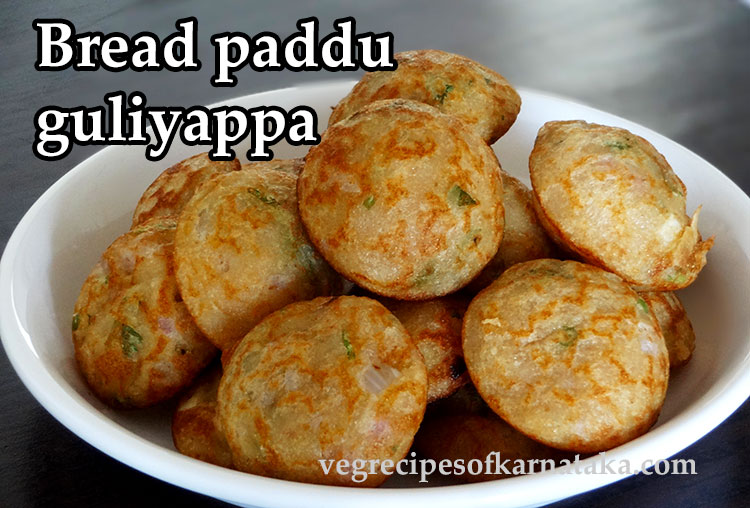 Bread paddu or bread guliyappa recipe explained with step by step pictures and a video. Bread paddu or appe is prepared using bread slices, rice flour, rava, curd, coriander leaves, onion, green chili and curry leaves. Bread paddu or guliyappa is very healthy and tasty. This is an instant appe or paniyaram recipe.
To prepare paddu or guliyappa or paniyaram or appe, a different type of pan with pits is used. I have posted few recipes like normal paddu, cucumber paddu, sabakki or sabudana paddu, sabsige soppu paddu or dill leaves appe and sweet banana paddu recipes using the same pan. Soon I will post more recipes using paddu pan..
In my house we don't buy bread regularly. Even if we buy, we will end up finishing half of it. My Son will eat the bread with either butter or jam. Or I prepare his favourite curd sandwich or vegetable grilled sandwich (I will post the recipe soon) or Iyengar bakery style bread toast. And as you all know bread has very less shelf life. So either I give it someone or prepare bread dosa or bread paddu. This is how I prepare bread paddu and I will share the bread dosa recipe soon.
You can prepare this for the breakfast or as a healthy evening snacks. And serve this with either coconut chutney or sambar. If you are looking for more Karnataka style breakfast recipes then do visit our breakfast recipes section.
I have made a quick video on this bread paddu recipe with Kannada narration, which I have embedded it below. Kindly have a look.
Bread paddu recipe
Preparation time: 15 min
Cooking time: 15 min
Serves: 2

Ingredients: (measuring cup used = 240ml)
4 slices bread
1/4 cup rice flour
1/4 cup rava or semolina
1/4 cup sour curd
1 small onion finely chopped
1 tbsp finely chopped curry leaves
1 tbsp finely chopped coriander leaves
1 green chili finely chopped
Oil for cooking
Salt as per your taste
Instructions for making bread paddu:
To prepare bread paddu or guliyappa, take bread slices in a mixie jar. Avoid sweet bread.
Add in rava. I have used uppittu or upma rava.
Add in rice flour.
Add in curd. Try to use sour curd.
Add in required water and salt.
Grind it for a while. No need to fine grind it. Now rest this batter for 15 minutes.
Add in finely chopped onion, green chilli, curry leaves and coriander leaves. Give a quick mix.
If required add in little water and adjust the consistency. It shall have thick dosa batter consistency.
Now heat the paddu pan and put few drops of oil in all the pits.

Pour the batter in all the pits.
Close the lid for a minute. Allow it to cook under low-medium flame.
Open the lid and drizzle oil on top. Flip the paddus and cook on the other side as well. Serve it with chutney and enjoy.
Dear reader, We have a Kannada version of this recipe. Click here to read this recipe in Kannada.

You might like this: