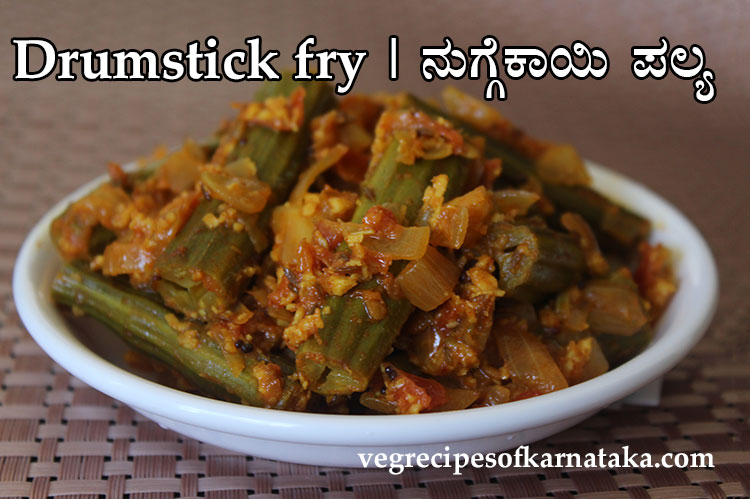 Nuggekai palya recipe or drumstick fry recipe explained with step by step pictures and video. Nuggekai palya or stir fry can be served as an accompaniment with rice. Nuggekai palya is prepared using drumstick, tomato, onion, coconut and few other spices.
If you are looking for more drumstick recipes, then do check our udupi style aviyal recipe and udupi style idli sambar recipes. Apart from this we in our family prepare badanekai-nuggekai sambar (brinjal-drumstick sambar), which is very tasty and I will share the recipe soon.
I am very happy to post this recipe as it is requested by many valuable readers. This drumstick stir fry or curry tastes too good with rice. Do give a try and share the feedback. Drumstick has numerous health benefits. It regulates blood sugar level and improves digestion. It helps in developing stronger bones and purifying blood. It eases respiratory problems. It is good for immunity.
You can find many palya or stir fry recipes on this website like thondekai palya, sorekai palya, bendekayi or ladies finger palya, bittergourd sweet curry, thondekai palya, Mixed vegetable palya, beans palya, badanekayi palya, Hagalakayi palya, Boodu kumbalakai or ash gourd palya and north karnataka special zunka vadi recipes.
Or if you are looking for more curry or gojju recipes then do check my Zunka vadi, menthe palle or methi dal, ennegayi or stuffed brinjal, mixed veg curry, gorikayi kara or cluster beans curry, mixed veg sagu, hesaru kalu gojju or green gram curry and hagalakayi or bitter gourd curry recipes.
I have made a video on this recipe with Kannada narration, which I have embedded it below. Kindly have a look.
Nuggekai palya or drumstick stir fry recipe
Preparation time: 5 min
Cooking time: 15 min
Serves: 4

Ingredients: (measuring cup used = 240ml)
3 - 4 nuggekai or drumstick
1 big onion finely chopped
1 big tomato finely chopped
1/2 tsp mustard seeds
1/2 tsp jeera or cumin seeds
7 - 8 curry leaves
1/2 - 1 tsp red chili powder
1 tsp coriander or dhaniya powder
1/4 tsp turmeric powder
Big pinch asafoetida
1 tbsp cooking oil
Salt as per your taste
Instructions for making nuggekai palya or drumstick stir fry:
To begin with in a frying pan heat 1 tbsp oil. Add in 1/2 tsp mustard seeds and 1/2 tsp cumin seeds.
When the mustard and cumin seed splutters add in curry leaves.
Followed by add in finely chopped onion. Fry until onion turn translucent.
Add in finely chopped tomato. Give a quick mix.
Add in turmeric powder and fry until tomatoes are soft.
Add in spice powders like red chili powder, coriander powder and asafoetida. You can add any spice powders of your choice.
Add in chopped drumstick and 1/2 cup of water.

Give a quick mix and add in salt as per your taste.
Close the lid and allow it to cook for 10 minutes under medium flame. Add in water if required and cook until drumstick is cooked.
At the end add in 1/4 cup of grated coconut and give a quick mix. Serve it with roti or chapathi or rice.
Switch off the stove and serve it with hot steaming rice.
Dear reader, We have a Kannada version of this recipe. Click here to read this recipe in Kannada.

You might like this: