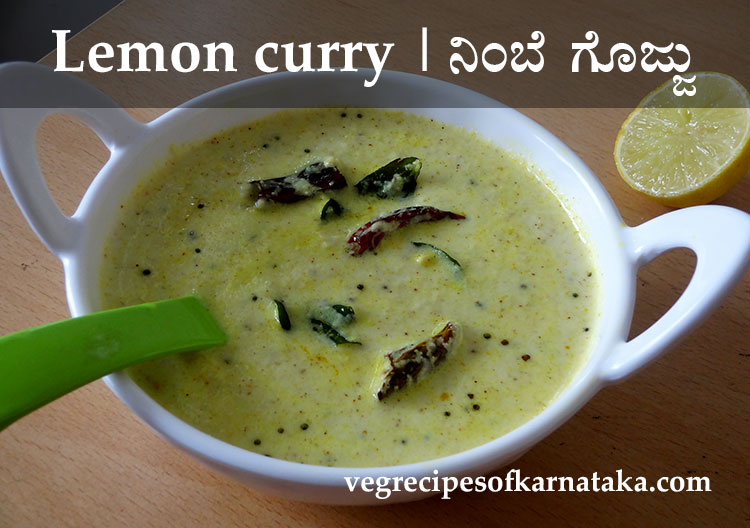 Nimbe gojju or limbe hannina gojju recipe explained with step by step pictures and a video. This is a very simple and tasty gojju or chutney recipe prepared using coconut, lemon, green chili and a tempering. This is a malnad style nimbe gojju or lemon curry recipe and it goes very well with rice.
Lemon and lemon usage is more across Malnad region of Karnataka. The food will be little sour over there. Nimbe gojju or lemon gojju is prepared in 2 - 3 ways. I have explained one simple method here. If you are looking for more lemon recipes, then do check my lemon+chili+mango-ginger pickle, lemon chitranna , hesarubele nimbe hannu saaru and nimbe saru or lemon rasam recipes on this website.
Lemon is filled with vitamin C and regular usage will boost the immunity. So try to use lemon in your cooking or in the form of lemon juice.
This nimbe gojju is nothing but coconut-lemon chutney, served as an accompaniment with rice. You can not serve this with idli or dose as it will be very sour. I learnt this recipe from my Mother.
If you are looking for more curry recipes then visit our curry section.
If you are looking for more chutney recipes then do check pudina coconut chutney, curry leaves chutney, Urad dal chutney, Cucumber peel chutney, doddapatre chutney, watermelon-rind chutney, garlic chutney, coriander leaves chutney, ridgegourd peel chutney, brahmi chutney and radish chutney.
I have made a video on this recipe with Kannada narration, which I have embedded it below. Kindly have a look.
Nimbe gojju recipe
Preparation time: 10 min
Cooking time: 2 min
Serves: 4

Ingredients: (measuring cup used = 240ml)
1 cup grated coconut
Lemon juice from 1/2 lemon
1 - 2 spicy green chilies
Salt as per your taste
Tempering:
1/2 tsp mustard seeds
2 tsp cooking oil
A big pinch of asafoetida
1/4 tsp turmeric powder
Few curry leaves
1 red chili broken
Instructions for making nimbe gojju recipe:
Take grated coconut in a mixie jar. Add in required water and grind until fine.
Add in green chili and salt. Use spicy green chili or birds eye chili (jeerige or gandhari menasu) for better taste. Grind it again until fine.
Transfer the ground chutney into a container. Add in mixie jar washed water also. This gojju should not be very thick, so adjust the consistency by adding required water.
Now extract the juice from 1/2 of a big lemon. Squeeze, rinse and then cut the lemon for better result.
Add in the extracted lemon juice.

Prepare tempering using oil, mustard seeds, curry leaves, asafoetida, turmeric and red chili.
Pour the tempering over the ground chutney. Give a quick mix and serve it with hot steaming rice.
Give a quick mix and serve it with hot steaming rice.
Dear reader, We have a Kannada version of this recipe. Click here to read this recipe in Kannada.

You might like this: