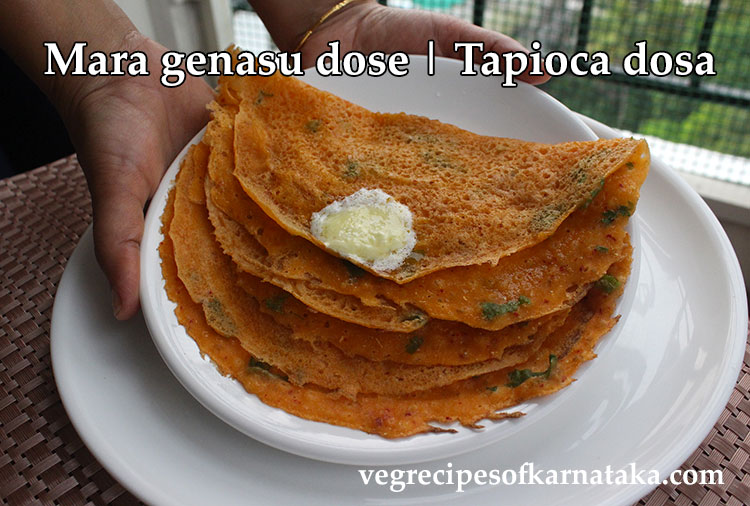 Maragenasu dose or tapioca dosa recipe explained with step by step pictures and a video. Mara genasina dose is a very easy, healthy and tasty breakfast recipe. Mara genasu dose or tapioca dosa is prepared using soaked rice, chopped tapioca, curry leaves, coriander leaves, red chili, coriander seeds, cumin seeds, asafoetida and salt.
Mara genasina dose or tapioca dosa is familiar by different names like tapioca dosa, cassava dosa, kappa dosa, maravalli kilangu dosa etc., Preparing tapioca dosa is very easy. I have added chili and spices. You can make it plain as well. To make plain tapioca dosa grind rice, chopped tapioca and little coconut.
I learnt this recipe from my friend Manjula. You can find many dose recipes on this website.
I get plenty of tapioca here. However this is my first post using tapioca. I like to cook and eat tapioca with crushed chutney prepared using greenchili, onion, salt and oil. It's super tasty and is very popular here. I will try to post the recipe in the coming days..
Using coconut is optional and I have not used. If you want youcan add coconut while grinding the batter. Tapioca dosa can be served along with butter and coconut chutney.
You can find many breakfast recipes on our website. And if you are looking for more dosa recipes then do check our neer dose, masala dose, heerekai dose or ridgegourd dosa, ragi dose, curd dosa, rava rotti or dose, benne dose, bele dose or dal dosa, set dose, plain dosejolada dose, rave dose, rave onion dose, heasru bele dose, masale neer dose, millet dose and whole wheat dosa or godhi doserecipes.
I have made a video on this with Kannada narration, which I have embedded it below. Please have a look.
Mara genasu dose recipe
Preparation time: 4 hour
Cooking time: 10 min
Serves: 4

Ingredients: (measuring cup used = 240ml)
1 cup rice
1 cup chopped tapioca or maragenasu
1 - 2 red chili
1 tsp coriander seeds
1/2 tsp cumin seeds
1 tbsp finely chopped curry leaves
1 tbsp finely chopped coriander leaves
Big pinch of asafoetida
Oil for making dose
1 tsp salt (or as per your taste)
Instructions for making mara genasu dose:
Soak the rice for 3 - 4 hours. You can soak it overnight also. After soaking rinse and drain the water.
Peel and chop the Tapioca. I will update the peeling and chopping images soon.
Next transfer the soaked rice in to a mixie jar.
Add in chopped mara genasu or tapioca.
Also add in coriander seeds, cumin seeds and red chili. Optionally you can add grated coconut.
Grind it into a fine batter by adding required water. Transfer it into a container.
Add in required water and prepare a thin batter, having milkshake consistency. Also add in chopped curry leaves, coriander leaves and asafotida.
Add in salt as per your taste. I have added 1 tsp of salt.
Now heat the cast iron pan (well seasoned) or non-stick pan. Take a laddle full of batter and make thin dose.

Close the lid and allow it to cook for few seconds.
After few seconds, open the lid and drizzle 1tsp of oil or ghee. Reduce the flame and allow it to cook on low flame for few seconds.
Fold the dosa on the pan itself. Take it out and serve it with coconut chutney or sambar.
Dear reader, We have a Kannada version of this recipe. Click here to read this recipe in Kannada.
You might like this: