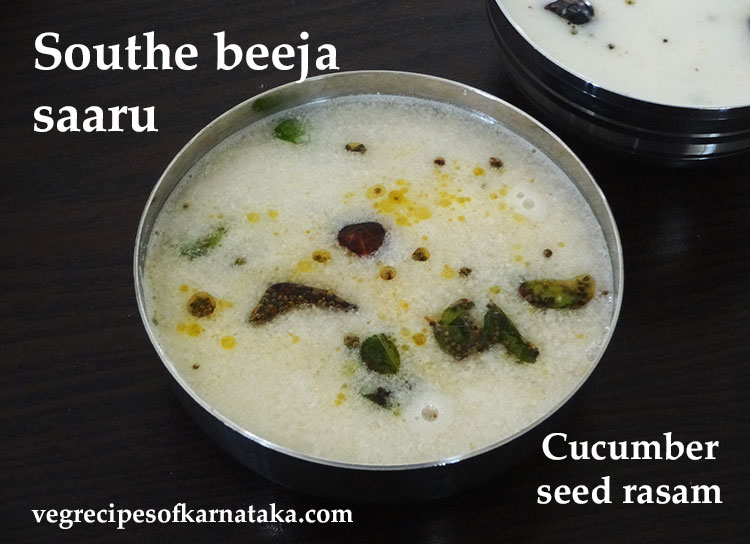 Southe beejada saaru or cucumber seeds rasam recipe explained with step by step pictures and a video. Southe beeja saaru is prepared using cucumber seeds, curd, coconut, cumin seeds and a big fat tempering. Southe beejada saru or cucumber seeds rasam is very tasty, healthy and goes very well with rice.
Generally seeds from sambar cucumber or yellow cucumber is used in this recipe. Cucumber seeds are high in nutrients. Cucumbers are low in calories but high in many important vitamins and minerals. Cucumber seed contains antioxidants and promotes hydration. So from now onwards don't throw the seeds away..instead prepare this yummy saaru.
If you are looking for more recipes using sambar cucumber or yellow cucumber then do check Mangalore southekayi sambar, Mangalore southekayi sambar and Southekayi sippe chutney (cucumber peel chutney) recipes. Apart from this you can also prepare majjige huli using these cucumbers.
If you are looking for more saru or rasam recipes then do check 5 minute rasam, lemon rasam, doddapathre rasam, udupi rasam, cowpea rasam and fenugreek seed rasam, upsaaru, Mango rasam, avarekalu saaru and sabsige soppu (dill leaves) rasam recipes.
I have made a quick video on this southe beejada saaru recipe with Kannada narration, which I have embedded it below. Kindly have a look.
Southekai beejada saaru recipe
Preparation time: 10 min
Cooking time: 10 min
Serves: 1.5 cup

Ingredients: (measuring cup used = 240ml)
Seeds from a sambar cucumber
1/4 cup coconut
1/2 tsp cumin seeds
4 tbsp buttermilk or curd
Salt as per your taste
Ingredients for tempering:
1 red chili
1/2 tsp mustard seeds
One big pinch of asafoetida
7 - 8 curry leaves
1 tbsp cooking oil
Instructions for making southe beejada saru or cucumber seeds rasam:
Collect the seeds from a sambar cucumber and rinse them.
Transfer it into a mixie jar and grind it into a paste by adding required water.
Strain it using a juice strainer and collect the milk.
Use a spoon to ease the process and keep it aside. Discard the residue.
Next take coconut and cumin seeds in a mixie jar and grind it into a fine paste by adding required water.
Add it into the milk extracted from cucumber seeds.

Add in salt and keep it boiling.
Bring it to rolling boil and switch off the stove.
Once the boiling is stopped add in 4 tbsp of butetr milk or whisked curd.
Prepare tempering using oil, red chili, mustard seeds, curry leaves and asafoetida.
Dear reader, We have a Kannada version of this recipe. Click here to read this recipe in Kannada.
You might like this: