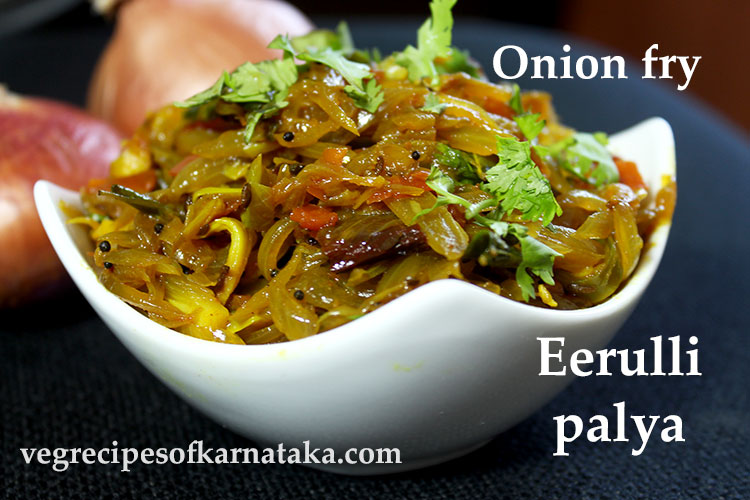 Eerulli palya or onion stir fry recipe explained with step by step pictures and video. Eerulli palya or onion fry is avery tasty recipe and goes very well with chapathi. Eerulli palya or onion fry is prepared using onion, tomato, salt and green chili. This is a very simple and quick palya recipe.
I love onion and you can find many tasty onion recipes on this website like onion dose, onion chutney, onion thambli, onion pakoda and potato onion sambar recipes.
Eerulli palya or onion fry is a beginner and bachelor friendly recipe. Also when you don't have any vegetables, and when you are in hurry..this onion fry is the perfect recipe. This onion fry with chapathi is a tasty and healthy combo. Do give a try.
I do prepare one more type of onion palya, which makes use of spice powders. I will share that recipe also in the coming days.
You can find many palya or stir fry recipes on this website like kosu or cabbage palya, thondekai palya, southekai palya, sorekai palya, bendekayi or ladies finger palya, bittergourd sweet curry, thondekai palya, Mixed vegetable palya, beans palya, badanekayi palya, Hagalakayi palya, Boodu kumbalakai or ash gourd palya and north karnataka special zunka vadi recipes.
I have made a video on this recipe with Kannada narration, which I have embedded it below. Kindly have a look.
Eerulli palya or onion stir fry
Preparation time: 5 min
Cooking time: 5 min
Serves: 2

Ingredients: (measuring cup used = 240ml)
4 medium sized onions
1/2 tsp mustard seeds
1/2 tsp cumin seeds
1 red chili
1/4 tsp turmeric powder
A big pinch hing / asafoetida
5 - 6 curry leaves
1 - 2 green chili
1 tomato finely chopped
Salt as per your taste
4 tsp cooking oil
Instructions for making eerulli palya or onion stir fry:
To beginwith, peel and slice the onion. Keep all other ingredients ready.
Take a frying pan and heat the oil. Add in mustard seeds and cumin seeds.
When the mustard seed splutters add in broken red chili.
Also add in curry leaves and slit green chilies.
Followed by add in chopped or sliced onion and give a quick mix.
Next add in turmeric powder and asafoetida. Give a quick mix.
Add in salt. Mix it well for a minute.
Close the lid and cook the onion for a minute or two under low medium flame. You can add a tsp of water if required.

When the onions are cooked and soft, make little empty space in the middle of the pan and add in chopped tomato. This helps to cook tomato faster.
Cook the tomatoes until soft. And then mix everything well.
Optionlly sprinkle some coriander leaves. Give a quick mix and switch off the stove. Serve it with chapathi or rice.
Dear reader, We have a Kannada version of this recipe. Click here to read this recipe in Kannada.

You might like this: