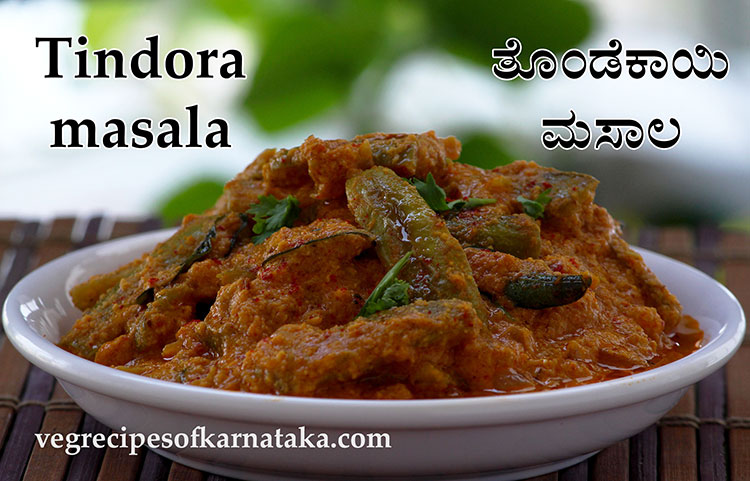 Thondekai masala curry or thondekayi gojju recipe explained with step by step pictures and a video. Thindekai masala or Tindora curry goes well with chapathi or roti. This is a very tasty curry prepared using Ivy gourd, tomato, onion, peanut, red chili, coriander seeds, sesame seeds and few other spices.
Ivy gourd is familiar by different names like thondekayi or thondekai (kannada), Ivy gourd or gherkins (English), tindora (Hindi), dondakaya (Telugu), kovakka (Malayalam), kovakkai (Tamil), tendli or tondli (Marathi), manoli (tulu), kundru (Oria) and kundli (assamese). You can find three more Ivy gourd thondekai recipes on this website like thondekai fry, thondekai palya and thondekai majjige huli recipes.
Thondekai or Ivy gourd is a very tasty vegetable and you can prepare many recipes using it. This vegetable is also known for its anti-oxidant content. It protects the nervous sysytem and promotes the metabolism in the body.
You can serve this thondekai masala along with super soft chapthi or hot steaming rice. In this recipe, I have fried the Ivy gourd in oil, which takes long time. So if you are in short of time, cook the Ivy gourd in the cooker by making one whistle and then fry it for some time.
Since I have used peanuts or shenga in the masala, this thondekai curry has a nice nutty taste. The taste is more like north Karnataka style ennegayi recipe.
If you are looking for more curry or gojju recipes for chapathi or rotti then do check my Zunka vadi, menthe palle or methi dal, ennegayi or stuffed brinjal, mixed veg curry, gorikayi kara or cluster beans curry, mixed veg sagu, hesaru kalu gojju or green gram curry and hagalakayi or bitter gourd curry recipes.
I have made a video on this recipe with Kannada narration, which I have embedded it below. Kindly have a look.
Thondekai masala or thondekayi curry recipe
Preparation time: 10 min
Cooking time: 30 min
Serves: 4

Ingredients: (measuring cup used = 240ml)
1/2 kg thondekai or Ivy gourd
1 big onion finely chopped
1/4 tsp turmeric powder
1 tbsp finely chopped coriander leaves
1 gooseberry sized tamarind
4 tbsp cooking oil
Salt as per your taste
Ingredients for grinding:
1/4 cup peanuts or shenga
2 tsp coriander seeds
2 - 4 red chilies
2 tsp sesame seeds
1 big tomato chopped
Instructions for making thondekai masala curry:
To beginwith chop Ivy gourd, onion and tomato.
Next lets prepare masala. For that heat a frying pan. Add in peanuts (shenga), coriander seeds and red chilies. Start roasting them under medium flame without adding oil.
When peanuts are light brown, add in sesame seeds.
In no time sesame seeds will splutter. Immediately add in chopped tomato.
Followed by add in grated coconut. Give a quick mix and switch off the stove.
Once they are cool, grind them into a paste by adding required water. Keep it aside.
Heat oil in a frying pan and add in chopped Ivy gourd or thondekai.
Fry for a minute and then add salt. Continue cooking the Ivy gourd by stirring it frequently. You can close the lid for fast cooking.
Once they are cooked, add in chopped onion and curry leaves.

Roast until onions are light brown. And then add ground masala along with a cup of water.
Add in tamarind, turmeric and salt. Give a quick mix.
Close the lid and allow it to cook for 10 minutes under low flame..
Ope the lid and sprinkle coriander leaves. Make sure the vegetable is cooked and soft. Swtich off the stove. Enjoy tasty curry with either chapathi or rice.
Dear reader, We have a Kannada version of this recipe. Click here to read this recipe in Kannada.

You might like this: