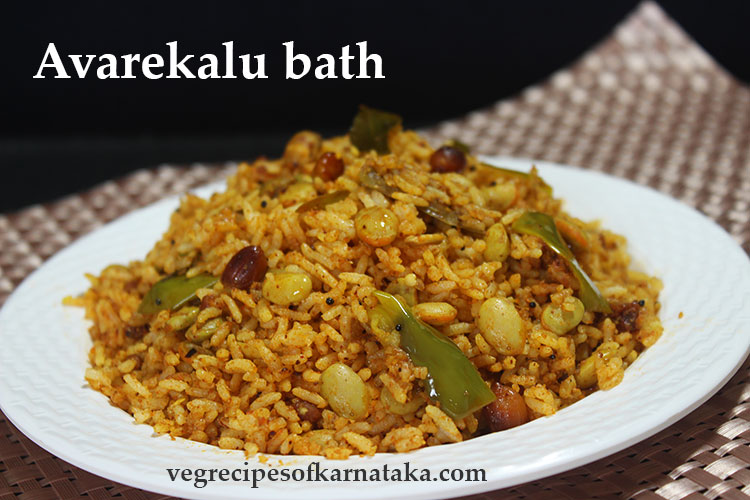 Avarekalu bath or avarekalu rice recipe explained with step by step pictures and a video. Avarekalu bath is a very tasty rice recipe prepared using avarekalu, brinjal, tamarind, jaggery, coconut and masala powder. Avarekalu bath or avarekalu rice is a very healthy lunch box recipe.
Now the avarekalu or hyacinth beans or filed beans season is going on. So do try this recipe..I am sure you will love this. You can find many avarekalu recipes on this website like avarekalu sagu, avarekalu saru, avarekalu uppittu, avarekalu akkirotti, avarekalu mixture and avarekalu usli recipes.
This is my own way to prepare avarekalu rice bath. I don't get avarekalu here. During my last visit to native, I had packed good amount of avarekalu. I enjoyed adding avarekalu in most of the recipes I do. Finally I tried avarekalu bath or avarekalu rice this way and it was a super hit. So sharing with you all.
If you are looking for more Karnataka style ricebath recipes, then do check my easy bisi bele bath, veg pulav, tomato bath, lemon rice, ghee rice, pongal, gorikayi rice bath, vangi bath, cabbage rice or cabbage bath, puliyogare and pudina pulao recipes.
Or if you are looking for more Karnataka style breakfast recipes then do visit our breakfast section.
I have made a quick video on this avarekalu bath recipe with Kannada narration, which I have embedded it below. Kindly have a look.
Avarekalu bath recipe
Preparation time: 10 min
Cooking time: 30 min
Serves: 3

Ingredients: (measuring cup used = 240ml)
1 cup rice (I used sona masuri)
1 cup avarekalu or fresh field beans
1 green brinjal or few cluster beans (optional)
3 - 4 tbsp cooking oil
1/2 tsp mustard seeds
1 tsp urad dal
1 tsp bengal gram dal or chana dal
2 tbsp peanuts or groundnuts
4 - 5 curry leaves
1 gooseberry sized tamarind
1 gooseberry sized jaggery
1/4 tsp turmeric powder
Salt as per your taste
Ingredients for masala powder:
2 - 4 red chilies (medium spiced)
2 tsp urad dal
2 tsp bengal gram dal or chana dal
3 tsp coriander seeds
1/2 finger length cinnamon
5 - 6 cloves
7 - 8 pepper
1/2 tsp poppy seeds
1/4 dry coconut
1/2 tsp cooking oil
Instructions for making avarekalu ricebath:
To begin with peel and collect the avarekalu. Also chop the brinjal and soak it in the water.
To begin with take 1 cup rice in a pressure cooker and rinse it. Add in 1 cup avarekalu (or field beans), salt and little ghee into it.
Add in required water, close the lid and cook by making 2 whistles. I have added 2.5 cups of water.
Now let us prepare masala powder. For that, heat 1/2 tsp of oil in a pan. Next add in red chilies, urad dal, gram dal and coriander seeds. Start frying them under medium flame..
When the dals turn slight brown, add in cinnamon, cloves, black pepper and poppy seeds. Continue frying for a while under medium flame.
Next add in dry coconut, roast it for a while and switch off the stove.
Wait until cool and transfer it into a mixie jar.
Grind it into a coarse powder. Keep it aside.
Next take 4 tbsp of oil in a big wide frying pan and heat it. Add in peanuts (shenga) and wait until it starts crackling.
Once the peanut crackles, add in mustard seeds, urad dal and chana dal.
When mustard seed splutters add in curry leaves.
Followed by add in chopped brinjal and turmeric powder. Fry them for a minute under high flame.

Next add in jaggery, salt and tamarind juice. Adjust as per your taste. Give a quick mix, close the lid and cook until brinjals are soft.
Once done, add in masala powder. Mix well for a minute under low flame and switch off the stove.
Add in cooked rice and avarekalu.
Mix it well. Serve it as breakfast or pack it for the lunch box. This is a very tasty ricebath recipe.
Dear reader, We have a brief Kannada description of this recipe. Click here to read this recipe in Kannada.
You might like this: