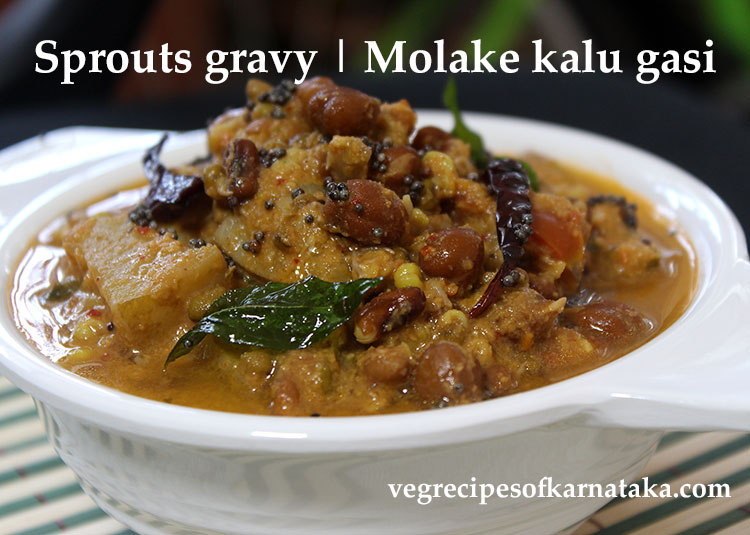 Molake kalu sambar or sprouts gravy recipe explained with step by step pictures and a video. Easy and tasty sambar recipe prepared using molake kalu or mixed sprouts. This molakekalu saru or sprouts gravy can be served as an accompaniment with ragi mudde or rice or chapathi or rotti. This is a very popular gravy recipe from Karnataka.
I have shared few more similar gravy recipes on this website which can be served with either rice or ragi mudde. Kindly have a look on tasty upsaaru, huruli kalu bassaru, bassaru, upsaaru, kadle kalu saaru and sabsige soppu saaru recipes.
Sprouts gravy or molake kalu is very good for health. You can find hesarukalu usli or green gram sundal, green gram sprouts salad and hesarukalu gojju or green gram curry on this website.
I have used ginger, garlic and onion in this recipe. However if you don't like adding them, you can replace it with 1/4 tsp of asafoetida. But add asafoetida while tempering. This is a very easy recipe, you can serve this as an accompaniment with chapathi by adding less water.
If you are looking for more gravy recipes then do check my ragi mudde, Majjige huli, yellow cucumber sambar, tomato rasam, shunti thambuli, menthe huli, upsaaru and bendekai sambar recipes.
I have made a video on this recipe with Kannada narration, which I have embedded it below. Kindly have a look.
Molake kalu sambar recipe
Preparation time: 1.5 day
Cooking time: 30 min
Serves: 4

Main Ingredients: (measuring cup used = 240ml)
2 cup mixed sprouts or molake kalu
1 small potato (optional; or can be replaced with any other vegetable)
1/2 onion chopped
1/2 tomato chopped
1 tbsp finely chopped coriander leaves
Pinch of turmeric powder
Salt as per your taste
Ingredients for grinding: (measuring cup used = 240ml)
1/2 cup grated coconut
1/2 onion chopped
1/2 tomato chopped
2 - 4 red chilies
4 - 5 cloves of garlic
2cm length ginger
2 tsp coriander seeds
1 tsp cumin seeds
1/2 finger length cinnamon
7 - 8 cloves
Ingredients for tempering the gravy or rasam:
1 red chili
5 - 6 curry leaves
1/2 tsp mustard seeds
2 tsp cooking oil
Instructions for making molake kalu saaru:
I have used two cups of mixed sprouts. You can make this at home by soaking 1 cup of mixed legumes or kaalu. Take sprouts in a cooker.
Add in one chopped potato (optional), 1/2 chopped onion and 1/2 chopped tomato. You can replace potato with any other vegetable..
Also add in salt and little turmeric powder. Cook the sprouts and vegetables until soft by adding required water. Making 2 whistles will do the job.
Next we need to grind the masala. For that gather the "for grinding" ingredients like grated coconut, 1/2 tomato, 1/2 onion, red chilies, garlic, ginger, cinnamon and cloves. Adjust these spices as per your taste.
Also take coriander seeds and cumin seeds.
Grind it into a smooth paste using mixer grinder by adding required water. Keep it aside.
Wait until sprouts and vegetables are cooked. And then add in the ground masala.
Add in required water and adjust the salt level.

Give a quick mix and bring it to boil. Continue boiling for 5 minutes under low flame or until the raw smell is gone.
Sprinkle coriander leaves and switch off the stove.
Temeper it with oil, mustard seeds, curry leaves and red chili. Serve hot with ragi mudde or rice.
Dear reader, We have a Kannada version of this recipe. Click here to read this recipe in Kannada.

You might like this: