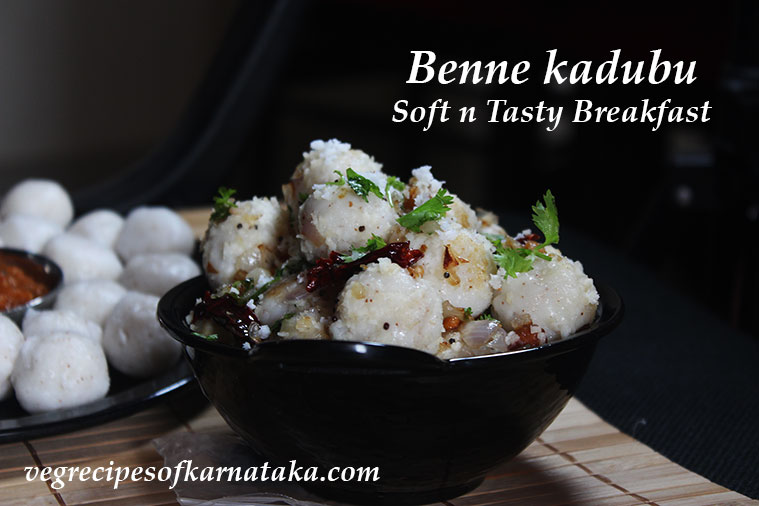 Benne kadubu or benne mudde recipe explained with step by step pictures and a video. Benne kadubu is a very soft and tasty breakfast recipe prepared using rice, coconut, butter and water. This is steamed rice dumplings recipe and is very healthy. You can serve this benne kadubu with either chutney or sambar or easy tomato saaru or rasam.
This benne kadubu recipe is quite similar to popular pundi or unde kadubu recipe. When you are bored with regular menu, you can try this. Kids will enjoy eating this because of the shape and size.
I learnt this recipe from a facebook food group. I have book marked few more recipes from that food group. I will try and share them soon.
I have posted many steamed recipes on this website like kayi kadubu, kara kadubu, eeradye, pathrode, nuchinunde, idli, cucumber idli and pumpkin sweet idli recipes. Steamed recipes are very healthy.
Apart from these you can find many sweet recipes, snacks recipes, breakfast recipes, Malnad recieps and Udupi-Mangalore recieps on this website. Do Read, Try and Enjoy!!
I have made a video on this recipe with Kannada narration, which I have embedded it below. Kindly have a look.
Benne kadubu recipe
Preparation time: 5 hours + 10 min
Cooking time: 30 min
Serves: 3

Ingredients: (measuring cup used = 240ml)
1 cup dosa rice
1/2 cup grated coconut
1 gooseberry sized butter
Salt as per your taste
Water as required
Ingredients for tempering: (measuring cup used = 240ml)
2 tbsp oil
2 tbsp ground nut or peanut
1/2 tsp mustard seeds
1 tsp gram dal
1 tsp urad dal
1 onion finely chopped
Green chili or red chili or pepper
1/4 cup grated coconut
Salt as per your taste
little coriander leaves
Instructions for making benne kadubu:
Rinse and soak the rice for 4 - 5 hours. After soaking, drain the water and transfer it into a mixie jar.
Add in coconut and salt. And grind it into a smooth batter by adding required water.
Transfer the ground batter into a thick bottomed pan.
Add in required water to prepare thin batter. The batter shall have neer dosa batter consistency.
Add in a tbsp of butter.
Switch on the stove and start stirring under medium flame.
Within few minutes, the batter will turn thick and you will get a soft dough. Make sure the dough is soft else add little water and make it soft. Switch off the stove.
Wait until warm. Wet your fingers with water, take a small portion of dough and make gooseberry sized ball.
Arrange them on idli plates and steam cook it for 10 - 12 minutes. Once cooked, take them out and serve them with chutney or any other curry of your choice.
Optionally you can also temper them. Heat oil in a frying pan. Prepare tempering using peanuts, mustard seeds, gram dal and urad dal.

Add in finely chopped onion.
Also add in slit green chilies and curry leaves (you can add red chilies or crushed pepper as well). Fry the onion until soft.
Next add in cooked rice dumplings. I have added only half of them.
Top it with some fresh grated coconut. Mix it well for 1 - 2 minutes and switch off the stove.
At the end sprinkle coriander leaves and serve with chutney or sambar.
Dear reader, We have a Kannada version of this recipe. Click here to read this recipe in Kannada.

You might like this: