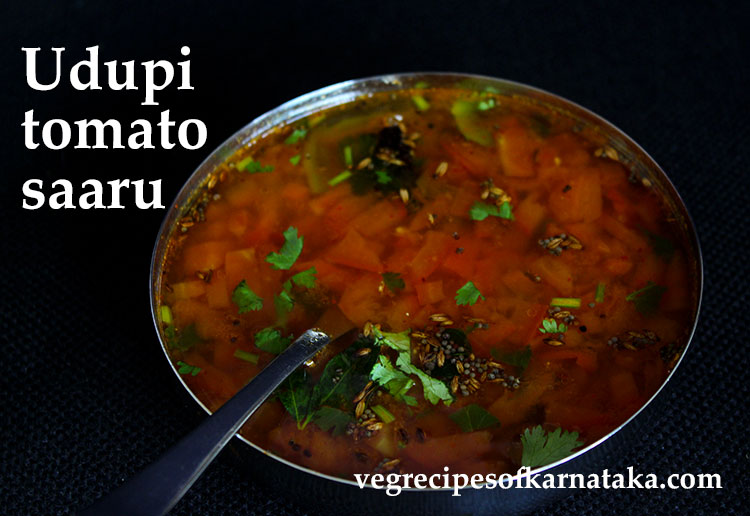 Udupi rasam or tomato saaru recipe explained with step by step pictures and a video. Udupi style rasam or saaru is prepared using toor dal, tomato and udupi rasam powder. Udupi rasam or saaru is a very simple and quick recipe, if the rasam powder is ready. Since I have explained the recipe of rasam powder in my previous post, hope you all are ready with the rasam powder. If not prepare it and get ready. Because this is a very very taty rasam or saaru.
In Karavali and Malenadu region of Karnataka, rasam is called by name "saaru". So this rasam is called by name "tomato saaru". This type of rasam is in practice across Karavali region of Karnataka. This rasam is a no onion and no garlic recipe and hence it is referred to as "satvik" recipe.
This Udupi rasam aka Udupi saaru is very tasty and easy to prepare. This is the same rasam or saaru, which is served in Udupi Shri Krishna temple. In Karavali region this rasam or saaru is a very common gravy in all special occasions and ceremonies. The rasam or saaru is served as first course in a multi course meal. Since this type of saaru or rasam is served in the Shri krishna temple, Udupi, this is also called by name "udupi samaradhane saaru(samaradhane = lunch served in temple)".
This is a kids friendly rasam and most of the kids are fond of this rasam. Not only kids, even the adults enjoy this lip smacking rasam or saaru.
There are many recipes of saaru or rasam from Karnataka. The saaru or rasam varies from region to region. I will post one by one and to begin with this tasty Udupi style saaru or rasam. Do try and enjoy this tasty and aromatic Udupi style saaru or rasam.
I have posted many rasam recipes like Dodapathre(ajwain) leaves rasam, mango rasam, sabsige soppu (dill leaves) rasam, menthe (fenugreek seeds) rasam, hesaru bele saaru or mung dal rasam and upsaaru recipes.
I have made a video on this recipe with Kannada narration, which I have embedded it below. Kindly have a look.
Udupi rasam or tomato saaru recipe
Preparation time: 5 min
Cooking time: 30 min
Serves: 4

Ingredients: (measuring cup used = 240ml)
1/4 cup toor dal
2 finely chopped tomatoes
1 small gooseberry sized tamarind
1 - 2 tsp jaggery (as per your taste but don't miss it)
2 tsp salt (as per your taste)
1 green chili
2 tbsp finely chopped coriander leaves
2 tsp heaped udupi rasam or saaru powder
A big pinch of turmeric powder
Ingredients for tempering:
1/2 tsp mustard seeds
1/2 tsp cumin seeds
A big pinch of asafoetida
5 - 6 curry leaves
2 tsp ghee / cooking oil
Instructions for making Udupi rasam or tomato saaru:
Take toor dal in a pressure cooker and rinse. Add in a cup of water, a pinch of turmeric powder and few drops of oil.
Close the lid and make two whistles. Once the pressure subsidies, open the lid and you can see dal is half cooked.
To the same cooker add in chopped tomatoes, 1 tsp salt and slit green chili.
Add in a 1/2 cup of water, close the lid and make 2 more whistles.
Once the pressure subsidies you can see both toor dal and tomatoes are well cooked.
Add in 2 cups of water, add a tsp of salt (or as per your taste) and switch on the stove.
Add in 1 to 2 tsp of powdered jaggery.
Extract tamarind juice from a small gooseberry sized tamarind and add.

Add in 2 tbsp of finely chopped coriander leaves.
Add in 2 tsp (heaped) udupi rasam powder or saarina pudi. I have given a link to the rasam powder in the ingredients list.
Bring it to rolling boil and switch off the stove. If required adjust salt, sour, sweet and spiciness at this stage.
In a small skillet prepare tempering using 2 tsp of ghee, 1/2 tsp mustard, 1/2 tsp cumin seeds and curry leaves.
Add this tempering to the rasam or saaru. Divine and satvik udupi rasam or saaru is ready to serve. Serve it with hot rice.
Dear reader, We have a Kannada version of this recipe. Click here to read this recipe in Kannada.

You might like this: