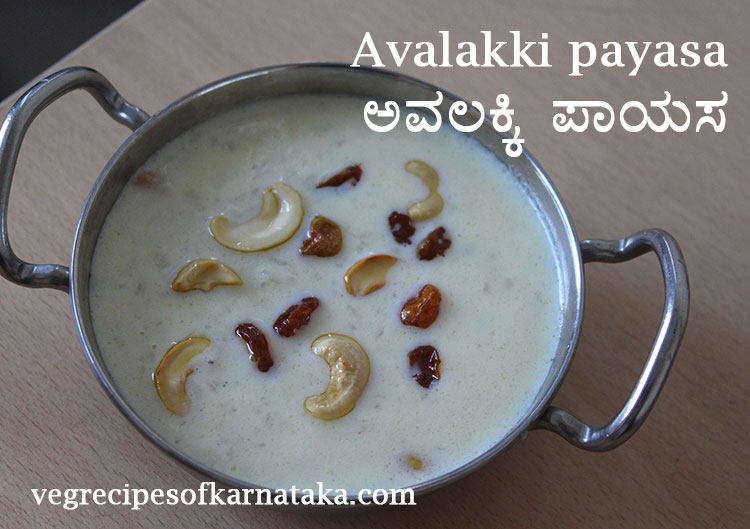 Avalakki payasa or poha kheer recipe explained with step by step pictures and a video. Avalakki payasa or aval payasam is prepared using thick beaten rice, milk, ghee and sugar. This is a very easy and tasty payasa or payasam or kheer recipe.
Festival season is around. Tomorrow is varamahalakshmi festival. Goddess Lakshmi loves payasa or kheer recipes. So prepare this payasa and celebrate the festival.
Avalakki payasa is a very easy and quick payasa or kheer recipe. You can prepare this avalakki payasa or kheer in 15 minutes. You can find many avalakki recipes on this website. Kindly have a look.
If you are looking for more payasa or kheer recipes then do check my oats payasa, sorekai payasa, Hal payasa or rice kheer, carrot payasa, Shavige payasa or vermicelli kheer, hesaru bele or mung dal payasa and pineapple payasa recipes.
If you are looking for more Karnataka style sweet recipes then do check my carrot halwa, roasted gram laddu, Kesari bath , banana halwa, rave ladoo, coconut burfi, badam puri and saat recipes.
I have made a quick video on this avalakki payasa recipe with Kannada narration, which I have embedded it below. Kindly have a look.
Oats payasa or oats kheer recipe
Preparation time: 2 min
Cooking time: 15 min
Serves: 4

Ingredients: (measuring cup used = 240ml)
1/2 cup gatti avalakki or thick poha
1/2 cup sugar
2 cup milk
1 tbsp ghee
7-8 cashews
1 tbsp raisins
A big pinch of cardamom
Instructions for making avalakki payasa or aval payasam:
To begin with, rinse the thick beaten rice (gatti avalakki) and keep it aside.
To begin with, heat ghee in a frying pan and add in cashews and raisins.
Roast until raisins are swollen. Take them out and keep it aside.
Next add in 2 cups of milk.
Add in 1/2 cup of sugar and bring it to boil.
Once it starts boiling add in rinsed avalakki or thick beaten rice. Continue boiling under medium flame by stirring occasionally.

After about 5 minutes add in cardamom powder. Continue boiling under medium flame.
Switch off the stove when the beaten rice is soft and cooked. This takes around 10 minutes.
At the end add in roasted cashews and raisins. Serve it and enjoy.
Dear reader, We have a Kannada version of this recipe. Click here to read this recipe in Kannada.

You might like this: