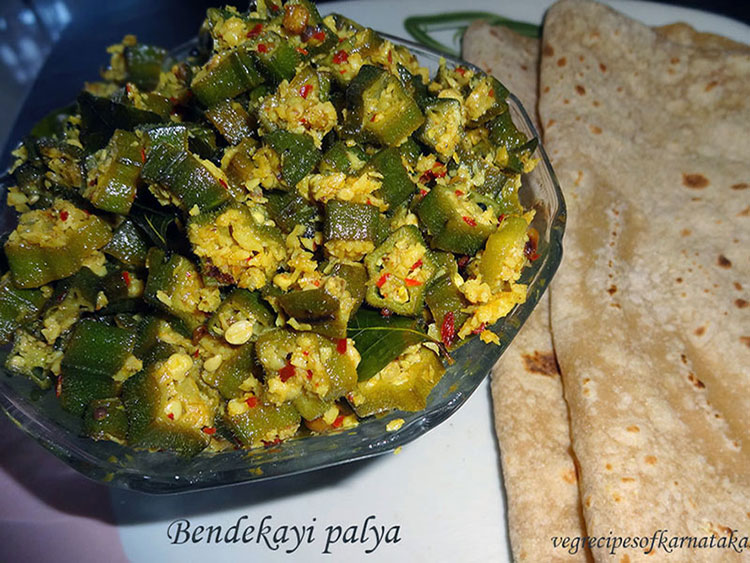 Bendekai palya or bhindi stir fry recipe explained with step by step pictures and video. This type of ladies finger stir fry or bendekayi palya is very popular in Malnad and Karavali (Udupi-Mangaluru) region of Karnataka. Variations like not grinding the coconut and adding less jaggery are also in practice. you can take the decision based on your taste. But this particular recipe is very tasty and goes very well with either chapathi or rice.
Ladies finger has numerous health benefits. It is rich in vitamin A, vitamins B and vitamin C. Lady's finger also serves as a supplement for fiber and folic acid. It's an ideal vegetable during pregnancy and if you are troubling from constipation.
If you are looking for more bendekai or lady's finger recipes then do check our bendekai hasi kayirasa, bendekai stir fry, bendekai gravy, bendekai gojju and bendekai bol koddel recipes.
Lady's finger is familiar by different names like bendekai, okra, Vendakai, Vendakka, Bhindi and Bhende. This is a most common vegetable in our weekly vegetable list.
You can find many palya or stir fry recipes on this website like cabbage palya, bittergourd sweet curry, thondekai palya, Mixed vegetable palya, beans palya and north karnataka special zunka vadi recipes. Or do visit our curries section.
I have made a quick video on this bendekai palya recipe with Kannada narration, which I have embedded it below. Kindly have a look.
Bendekayi palya recipe
Preparation time: 10 min
Cooking time: 10 min
Serves: 2

Ingredients: (measuring cup used = 240ml)
250 gms Lady's finger or bendekai
1 tsp urad dal
1 tsp channa dal
4 tsp cooking oil
1/4 tsp mustard seeds
A big pinch turmeric powder
A small pinch asafoetida
4-5 curry leaves
1 gooseberry sized tamarind
1 gooseberry sized jaggery
Salt as per your taste
1/2 cup water for tamarind juice
Ingredients for grinding: (measuring cup used = 240ml)
1/4 tsp mustard seeds
1-2 red chili
1/4 cup grated coconut
Instructions for making Bendekayi palya or ladies finger curry
Wash, pat dry and chop the ladies fingers into 0.5 cm length pieces.
Take a frying pan, add oil, 1/4 tsp mustard seeds, urad dal and channa dal. When the urad dal turns brown, add turmeric powder, asafoetida and curry leaves.
Add chopped ladies finger and mix for a while. Add salt, jaggery and tamarind juice. Reduce the flame. Keep stirring occasionally. Adding tamarind juice helps to remove the sliminess of lady's finger.
Meantime dry grind coconut, red chili and 1/4 tsp mustard seeds using a small mixie jar.

Wait until the ladys fingers are cooked.
Add ground masala and mix well for 2 minutes. Optionally you can top it with finely chopped fresh coriander leaves. Switch off the stove and serve it with hot steaming rice.
Dear reader, We have a brief Kannada description of this recipe. Click here to read this recipe in Kannada.
You may also like