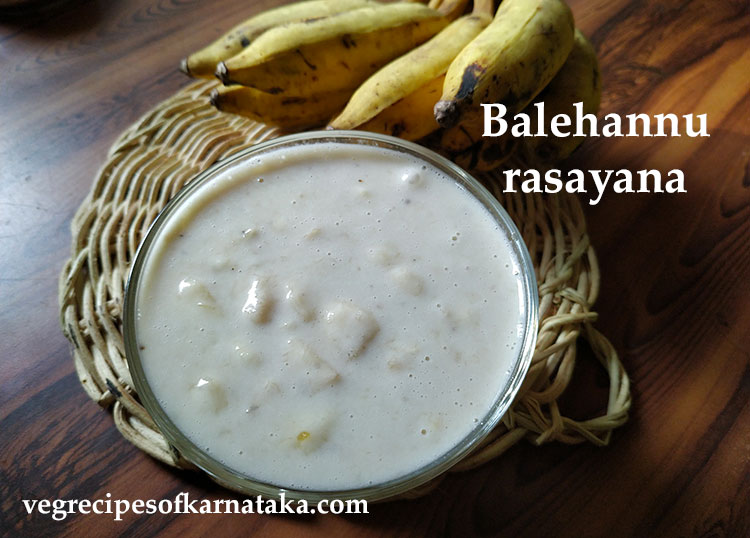 Bale hannina rasayana or banana seekarane recipe explained with step by step pictures. Bale hannina rasayana or mangalore style banana rasayana is prepared using ripened banana, jaggery and coconut. Bale hannina rasayana is a very tasty recipe. This rasayana is generally served with either neer dose or thin poha or akki shavige. Rasayana is a yummy dessert prepared using banana, jaggery and coconut milk.
You can find one more rasayana or seekarane recipe on this website. If it is a Mango season, then prepare this yummy mango rasayana or mavina hannina rasayana. My Sister-in-law says it's a very good combination with chapathi..However I never tried that rasayana with chapathi.
This baale hannina rasayana is very popular across Karavali region of Karnataka. Bale hannina rasayana is familiar by name seekarane in other parts of Karnataka. Seekarane recipe is little different than rasayana. In seekarane little coconut and little cow milk is used. And seekarane is served with either poori or chapathi or obbattu. I have used small yellow bananas, which are not soar. Rasayana will be very tasty with these bananas. But if you don't get these type of bananas then go ahead with whatever you get.
You can find many banana recipes on this website like banana halwa, banana buns, banana milkshake, banana dosa and banana chips recipes.
If you are looking for more sweet recipes then do check our saat or badusha, kayi holige, rave unde or rava laddu, badam puri recipe, halu bai, pineapple payasa, mungdal payasa, Shavige payasa, hurigadale unde or fried gram laddu, kesari bath, easy carrot halwa, easy milk peda and coconut burfi recipes. I have shared a video on how to chop the mangoes easily, which I have embedded it below. Kindly have a look.
Bale hannina rasayana recipe
Preparation time: 20 min
Cooking time: 0 min
Serves: 5

Ingredients: (measuring cup used = 240ml)
10 small bananas
2 cup grated coconut or 1 cup coconut milk
1/2 cup jaggery (adjust as per your taste)
1 cup water
A pinch of salt.
A big pinch of cardamom powder
Instructions for making bale hannina rasayana:
Peel and take the bananas. Small sized yellow bananas tastes better.
Chop the bananas into small pieces as shown in the picture.
Next add in powdered jaggery to the same container. Please note, amount of jaggery depends on the sweetness of banana and your taste.
Squeeze lightly and mix well using hands.
Add in a pinch of salt and give a quick mix.
Meanwhile take grated coconut in a mixer grinder. Use required water and grind until smooth paste.
Take the coconut paste in a thin cotton cloth, squeeze it and extract the coconut milk.

And then add the coconut milk into the container, which has chopped banana and jaggery.
Add in cardamom powder.
Give a good mix and serve it with neer dose or serve it as it is.
Dear reader, We have a Kannada version of this recipe. Click here to read this recipe in Kannada.

You might like this: