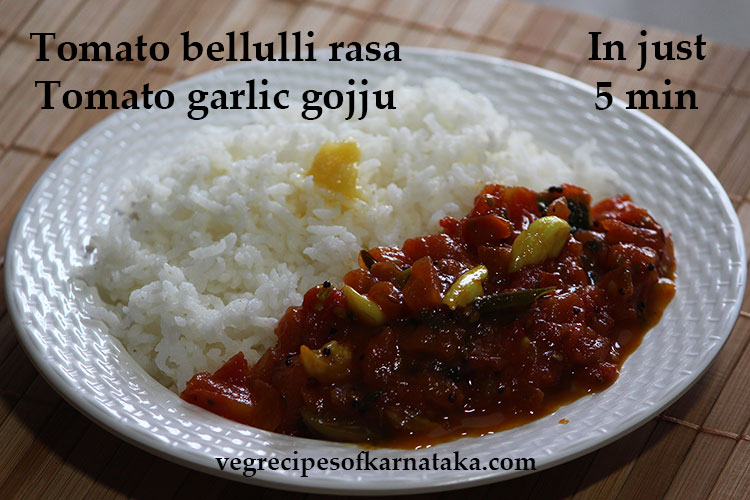 Toamto bellulli rasa or tomato garlic gojju recipe explained with step by step pictures and a video. This is a very easy, tasty and 5 minute recipe. Tomato bellulli gojju can be used as an accompaniment with either rice or chapathi or rotti or mudde. Tomato garlic gojju is prepared using tomato, garlic, green chili, pepper, mustard, cumin, oil, salt, tamarind and jaggery.
I learnt this recipe from a facebook group. This is a beginner or bachelor friendly recipe, which can be prepared in no time. And since we are not using coconut, it will stay good for more time.
I have posted many tomato recipes on this website. So if you are looking for more tomato recipes then check my tomato onion chutney, tomato poori, tomato bath, tomato salad, tomato pickle, tomato soup, simple tomato rasam, tomato dosa and tomato rasam recipes.
I have made a video on this gojju recipe with Kannada narration, which I have embedded it below. Kindly have a look.
Tomato bellulli gojju recipe
Preparation time: 2 min
Cooking time: 5 min
Serves: 2

Ingredients: (measuring cup used = 240ml)
3 big sized tomato
1/2 tsp cumin seeds
1/2 tsp mustard seeds
4-5 curry leaves
6 - 7 crushed garlic
1 - 2 slit green chilies
A pinch of turmeric powder
1 marble sized tamarind
1 gooseberry sized jaggery
1 tbsp coriander leaves
1/4 - 1/2 tsp pepper
1 tbsp cooking oil
Salt as per your taste
Instructions for making Tomato bellulli gojju:
Wash and chop tomato and coriander leaves. Also keep all other ingredients ready.
Next heat a frying pan. Add in oil, mustard seeds and cumin seeds.
When the mustard seed splutters add in curry leaves. Followed by add in crushed garlic and slit green chilies. Fry them for a while.
Next add in chopped tomato.
Add in a tsp of salt and turmeric powder. Fry for a minute under high flame.
Next add in tamarind extract and jaggery.

Close the lid and cook until soft under low flame.
Open the lid. Add in crushed pepper. Adjust the pepper according to your spice level.
Also add in coriander leaves.
Boil it for one more minute. If required, adjust salt, spice and sweet level. Serve it with either rice or chapathi or mudde or rotti.
Dear reader, We have a Kannada version of this recipe. Click here to read this recipe in Kannada.

You may also like