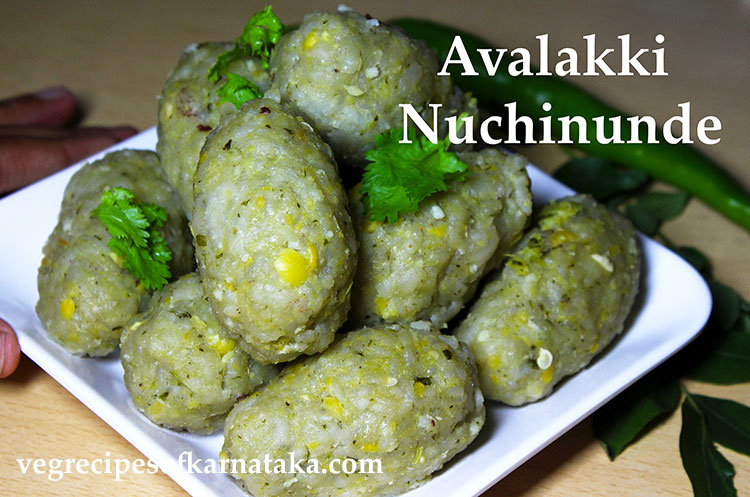 Avalakki nuchinunde recipe explained with step by step pictures and a video. Avalakki nuchinunde or nuchchinunde is a traditional breakfast or snacks recipe from Karnataka. Avalakki nuchinunde is prepared by steaming the a mixture of soaked beaten rice, dal and spices. Nuchinunde or spicy poha and dal dumplings are very tasty and guilt free snacks recipe. Nuchinunde is a traditional recipe from Bangalore Mysore region of Karnataka.
"Nuchu or nucchu" translates to broken pieces of dals or grains and "unde" translates to ball or dumplings in Kannada language. So the name nuchinunde or nuchina unde for this steamed broken dal dumplins. This is very tasty, healthy and my favorite. It is very good for kids as well.
Generally nuchinunde or nucchinunde is prepared using toor dal or the combination of toor dal and channa dal (bengal gram dal). And is served along with a raita called "Hasi Majjige". I have also posted the recipe of Hasi Majjige, which tastes great with nuchinunde. You can enjoy these tasty dumplings without any accompaniment also. So do try and enjoy!!
Avalakki is a super ingredient. You can prepare many recipes using avalakki or beaten rice. If you are looking for more avalakki recipes, then do visit our avalakki recipes section.
I have posted one more tasty nuchinunde prepared without avalakki. My son is very fond of these dumplings. This is a guilt free snacks recipe and you can find many healthy snacks recipes on this website like congress kadlekai, hurigalu, churumuri and mandakki recipes.
If you are looking for more breakfast recipes then do check our breakfast section. Or if you are looking for more snacks recipes then do check our snacks section. Also you can find recipes from Bangalore-Mysore region of Karnataka.
I have made a quick video on this southekai palya recipe with Kannada narration, which I have embedded it below. Kindly have a look.
Avalakki nuchinunde recipe
Preparation time: 4 hours
Cooking time: 15 min
Serves: 4

Ingredients: (measuring cup used = 240ml)
2 cup thick beaten rice
1/4 cup toor dal
1/4 cup gram dal or chana dal
1 - 3 green chilli
1/2 " length ginger
5 - 6 curry leaves
1 tbsp coriander leaves
1/4 cup grated coconut
A generous pinch of asafoetida
Salt as per your taste
Instructions for making avalakki nuchinunde:
Soak toor dal and gram dal (chana dal) for 4 hours. Drain the water and keep it ready.
Soak thick beaten rice until soft, drain the water and keep it aside.
Transfer the soaked dals into a mixie jar.
Add in grated coconut, green chilli and ginger into the mixie jar.
Also add in curry leaves and coriander leaves. If you want you can add finely chopped curry leaves and coriander leaves later instead of grinding now.
Coarse grind the ingredients without adding any water. Keep it aside.
Next take soaked avalakki or beaten rice in a large bowl. And add in ground dal mixture.

Add in asafoetida and salt.
Give a good mix. Add in required water, squeeze and prepare a soft but stiff mixture. I have added around 1/2 cup of water.
Now take a big lemon sized dal and spice mixture and prepare dumplings using your palms. Make sure the balls are stiff but soft.
Arrange them on a greased idli plate. Steam them for 10 minutes and serve them hot.
Dear reader, We have a Kannada version of this recipe. Click here to read this recipe in Kannada.

You might like this: